We recently asked guitarist Mary Halvorson a few questions about Thumbscrew and her own musical background and approach. Be sure to catch Mary with Thumbscrew this Friday September 12th at Joe's Cafe!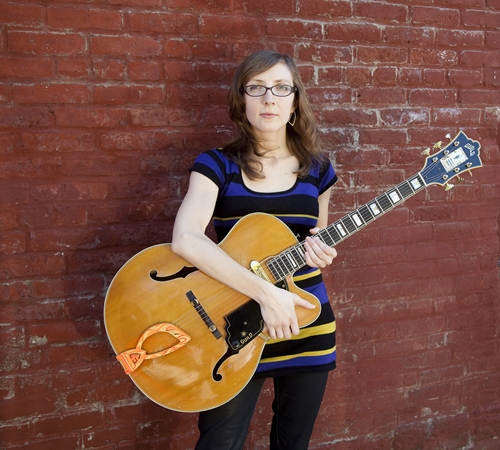 How did Thumbscrew come to form? My understanding is you've been playing with Tomas for awhile now…
Mary Halvorson: Thumbscrew's beginning was an accident of sorts. Tomas and I have been playing together for 10 years now, and one of the many bands we play in together is Taylor Ho Bynum's Sextet. A few years ago, Michael Formanek was subbing in Taylor's band for a performance in New York, and the three of us (Michael, Tomas and myself) really hit it off musically as a rhythm section. We immediately talked about doing more playing as a trio. When we got together a few months later, we each wrote a couple pieces of music specifically for the new trio, and Thumbscrew took shape pretty organically from there.
Could you maybe talk a little about the qualities of both Tomas' and Michael's playing?
MH: For me it's a real pleasure to play with both Michael and Tomas. Michael has been one of my favorite bass players ever since I was in college and discovered his playing through Tim Berne's Bloodcount. I am also a huge fan of Michael's records as a leader and numerous other projects he's a part of. Thumbscrew was my first real opportunity to work closely with him, and it's been quite an amazing experience. Tomas and I have been collaborating since 2004, in many different projects, from Matana Roberts to Mike Reed to Taylor Ho Bynum. I have always felt a strong musical connection with Tomas and have taken a lot of inspiration from his performing, composing and musical thinking, particularly as a part of his quintet, The Hook Up. Over the years I have enjoyed developing a strong musical rapport with him, now taking a new form in Thumbscrew.
Your last visit to St. Louis saw you playing in Taylor Ho Bynum's Sextet (an incredible and memorable show!). What I noticed in Taylor's writing approach was how he allowed vast amounts of compositional space for each musician's voice, or character, to come through – even when there are six of you playing together in really tight musical sequences there still is a feeling it can go in an opposite direction at any moment. Could you share any insights into the process that musician/composers like Taylor and Anthony Braxton use for composing in these larger groups? 
MH: Taylor has set up a really interesting musical system for his sextet. The latest piece of music he composed is basically a modular suite. There are six compositions, but the order in which the compositions happen is left partially open to the musicians in the band, through a road map format. Band members can cue certain pieces in at certain times, and together those pieces function as one long continuous piece. The same composition might happen twice in a set, or might not happen at all. It's interesting because the pieces are open enough that they can take on a really different form each time. And it's a fun challenge to try to shape the pieces differently, to improvise endings, beginnings, and transitions. There is always a strong element of the unexpected.
Anthony Braxton's larger ensembles have a similar yet distinct type of freedom. In many of his bands, musicians can cue in other musicians and even bring in entirely new compositions, improvised sections or structured improvisations in the midst of another composition. Sometimes there are section leaders within a larger ensemble, and section leaders can cue smaller sub-groups. The compositions that are created, like Taylor's, are dynamic, based on larger structural systems, and are never performed the same way twice.
In the works you write/lead in (i.e. Mary Halvorson Quintet), where do you start with the composition? From guitar? Or do the ideas begin in a more abstract and conceptual manner?
MH: Normally I start a composition simply by improvising on guitar, until I come up with some sort of a small fragment or an idea that I can use as a seed for a composition. Getting that initial idea can take a long time, but once I get it I write pretty quickly and improvisationally; I elaborate on the fragment or idea and keep adding to it and changing it until it starts to take shape. I rarely have an overarching structural idea beforehand, so the compositions might go in any direction and often wind up in an entirely different place than they started.
When listening to your playing, not only does the listener notice the complexities and phrasings of your playing, but also the tonal sound itself as a defining part of your music. Was there a process that lead you this particular sound and setup we hear in your guitar-work?
MH: I've always enjoyed the acoustic sound of a guitar; the imperfections of the wood, buzzes, attack of the pick, etc. For that reason, I was drawn to a big archtop guitar, because even if it's amplified, you can still hear a lot of the natural sound of the instrument. As far as an amplified tone, I've never liked reverb, and I tend to go for a sound that is clean and warm, and emulates the natural sound of the instrument, as a starting point. From there, I sometimes like to add effects (delay, pitch bending, distortion, tremolo). But I've always thought of those effects as an ornamentation of sorts to a more natural, clean sound.
Have there been any notable shows or music you've caught recently that you'd like to share?
MH: This July I did a solo guitar tour opening up for Buzz Osborne of the Melvins, who was doing a solo acoustic tour to support his new album, This Machine Kills Artists. I've always loved the Melvins, and hearing Buzz in a solo context was mindblowing. With the simple, stripped-down format of acoustic guitar and vocals, he performed an extraordinarily powerful and uncompromising set without losing an ounce of the intensity and energy of a full band. I had the privilege of listening to it for seven nights straight and never once grew tired of it.