Friday, January 22, 2016, Concert 8:00 PM, doors 7:00 PM
at Joe's Cafe, 6014 Kingsbury Ave., 63122 (map)
Susan Alcorn — pedal steel guitar, Frank Rosaly — drums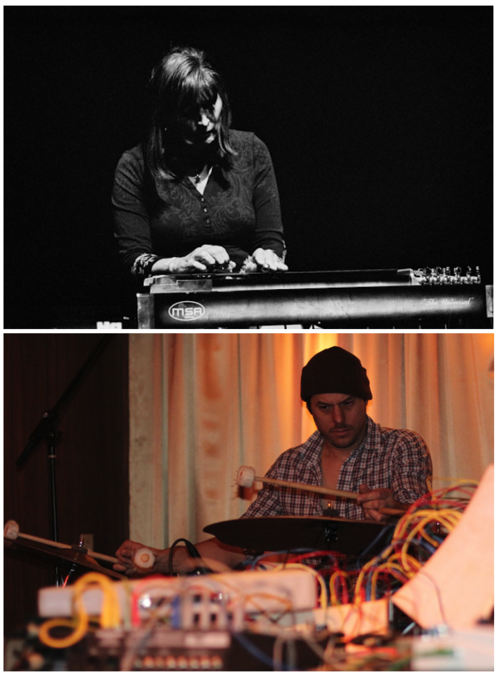 Susan Alcorn is a Baltimore based composer and instrumentalist who has received international recognition as an innovator of the pedal steel guitar. Alcorn elicits an expansive range of sounds from her instrument, from accessible country glissandos to Theremin like science fiction "noir" effects. The warm and shimmering earnestness of her instrument is used to full effect in her arrangements, probing the depths and textures of the songs. The UK Guardian describes her music as "beautiful, glassy and liquid, however far she strays from pulse and conventional harmony."
Though mostly a solo performer, she has collaborated with numerous artists including Pauline Oliveros, Joe McPhee, Ellen Fullman, Evan Parker, Michael Formanek, and Thurston Moore. Her most recent album, Soledad, was released in 2015 on Relative Pitch.
Drummer Frank Rosaly has lived in Chicago since 2001 and has become an integral part of that city's musical fabric, playing in improvised and experimental ensembles as well lending his skills to rock and indie groups. This flexibility as a musician lends particularly well to his improvised sets, where possibly he shines brightest.
New Music Circle audiences may recall his performance in 2013 with Joshua Abrams's Natural Information Society at Joe's Cafe. As we heard, unusual percussive devices such as found objects and electronic sounds are often included in his arsenal, and he is capable of transitioning from the most subtle sounds to intense outbursts, all in the same breath.
Rosaly now devotes much of his time to performing, composing and teaching, as well as organizing musical events. His collaborations include work with Matana Roberts, Fred Lonberg-Holm, Jeb Bishop, Ken Vandermark, Roscoe Mitchell, Ryley Walker, Colin Stentson, and Marshall Allen.