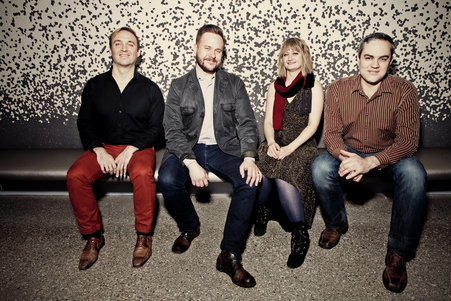 Saturday, March 5, 2016, 8:00 PM concert, 7:00 pm doors
at The 560 Music Center, 560 Trinity Ave, 63130
spektralquartet.com
+ Three free events with Spektral Quartet! Please see below for details…
"…leading the charge toward progressive, high-caliber contemporary classical music" – The Chicago Reader
Founded in 2010, the Spektral Quartet is widely regarded as one of Chicago's most charismatic and forward-thinking chamber ensembles. The group's creative approach to concert format, often shifting the role of audience member from spectator to participant, has earned it a loyal following within and beyond Chicago's city limits.
Since its inception, the Spektral Quartet has welcomed the discourse between the masterworks of the traditional canon and works written this decade, this year, or even this week. 2013/14 also saw the release of the group's first two full-length albums, both spotlighting the work of living, Chicago-based composers.
Concert program:
Hans Thomalla: New Work (2015)
Beat Furrer: String Quartet No. 3 (2004)
"The Spektral Quartet's identity and orientation draws inspiration from within chamber music practice dating back to the quartets of Haydn, just as they forge uncharted sonic ground with the most forward-thinking composers of today. The musical style and current projects of German-born Chicago resident Hans Thomalla beautifully mirror the group's approach to the string quartet. His music takes fragments of tradition and uses them as a germinative seed for his musical vocabulary, while he concurrently deals with materials on their own acoustical parameters. This concert presents the St. Louis Premiere of a new large-scale quartet by Thomalla, commissioned by the Siemens Foundation.
Austro-Swiss composer Beat Furrer's "String Quartet No. 3" completes the program. This work, with its radical form and prismatic treatment of musical materials, spins out from the 16th century chorale at the work's center. Its pregnant silences and sounds on the outer limits of musical exploration evoke a startlingly new musical language. Meanwhile, its form evolves in reverse order, allowing the listener to slowly come to the realization that the strange sounds they've heard develop are not creating something new, but originated in the veiled tonal chorale that serves as the piece's crux. Its unspoken lyrics read: "You hear me not; at night I find no peace, for you conceal, as much as it pains me, your countenance." – Spektral Quartet
+ Special FREE events with Spektral Quartet
Friday, April 4th – Artist talk at WUSTL – Spektral Quartet will lead an artist talk and discuss their practice and compositions. Free and open the public. 4pm-5pm at the Music Classroom Building, Room 102.  
Saturday, April 5th – Open Rehearsal at Tavern of Fine Arts: Join us for lunch as Spektral Quartet holds an open rehearsal from 1pm – 2pm at the Tavern of Fine Arts (313 Belt Ave). Free and open to the public
Saturday, April 5th – Pre concert talk from 7pm-7:20pm: Join NMC and Spektral Quartet for drinks and snacks in the Ballroom of the 560 Music Center. Members of Spektral Quartet will share insights about their concert program and the pieces to be performed.
 Co-sponsored by The Department of Music at Washington University in St. Louis