Friday, October 2, 2015, concert 8:00 PM, doors 7:00 PM
Joe's Cafe, 6014 Kingsbury Ave., 63122 (map)
Evan Parker — saxophones, Peter Evans — trumpet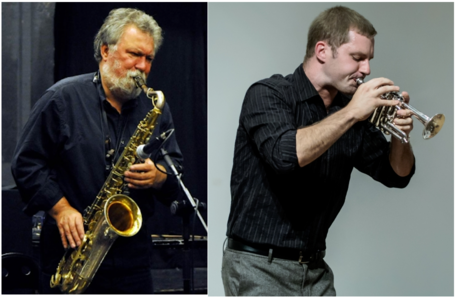 From the late 1960s onward, Evan Parker has remained a crucial figure in the development of European free jazz and free improvisation and has pioneered or substantially expanded an array of extended techniques for wind instruments. Critic Ron Wynn describes Parker as "among Europe's most innovative and intriguing saxophonists … his solo sax work isn't for the squeamish." In Evan Parker's music, thought process and breath control are continuous, each being the instrument and measure of the other.
Though Parker has worked extensively in both large and small ensembles, he is perhaps best known for his solo soprano saxophone music, a singular body of work that in recent years has centered around his continuing exploration of techniques such as circular breathing and multi-phonics. Alone, these are mere technical devices, such that Parker's use of them is, he says, less analytical than intuitive. He has likened his solo performances to entering a quasi trance-like state. The resulting affect is a hypnotic, uninterrupted flow of snaky, densely textured sound, and many listeners have found it hard to perceive that one man could create such intricate, complex music in real time.
Now at the age of 71, Evan Parker's list of associations is prolific and includes collaborations with such vanguard improvisers as Anthony Braxton and Milford Graves, yet also with avant-rock names like Spiritualized and Scott Walker, and he continues to perform with emerging improvisers such as Okkyung Lee, Chris Corsano, and John Wiese.
Peter Evans is a trumpet player, improviser and composer based in New York City. Since 2013, Evans has participated in New York City's broad, hybridized scene of musical experimentation, thus his work cuts across a wide range of modern musical practices and traditions. He is committed to the simultaneously self-reflective yet collaborative nature of musical improvisation as a compositional tool, and his capabilities in improvised concert settings are already legendary. Says regular collaborator, Okkyung Lee, "Peter can do anything!", and when leading his own groups, Peter Evans Quintet and Zebulon Trio, he juxtaposes the cerebral and the playful in a truly unique manner.
Born in 1981, Evans has been a member of New York City's musical community since 2003, when he moved there after graduating from the Oberlin Conservatory with a degree in classical trumpet performance. He currently works in a wide range of settings, including solo performance, chamber orchestra, performance art, free improvisation, electro-acoustic and composition. Regular collaborations include work with Mary Halvorson, Zach Hill, Claire Chase, Brandon Seabrook and Nate Wooley.
Special Engagement:
Evan Parker and Peter Evans will participate in a collaborative performance and artist talk at FOAM (3359 S. Jefferson Ave.) on Saturday, October 3rd at 11am. This event is FREE and open to the public. Local musicians will collaborate in short sets with each artist. Foam will have coffee and pastries available. Please see our website for updated information. RSVP on Facebook at: https://www.facebook.com/events/1642020816065882/