Presented by New Music Circle and KDHX
Friday, December 4, 2015, concert 8:00 PM, doors 7:00 PM
at The Stage at KDHX, 3524 Washington Ave., 63103 (map)
Sylvie Courvoisier — piano, Mark Feldman — violin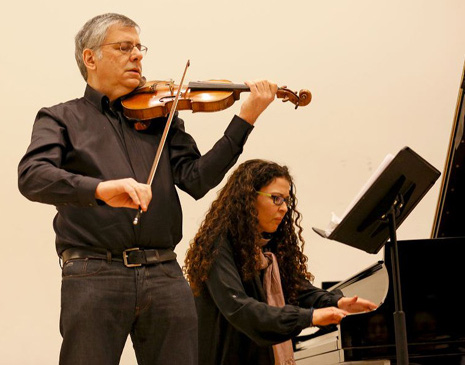 Swiss pianist Sylvie Courvoisier and American violinist Mark Feldman have been close partners, both musically and personally, for more than fifteen years, and their music attests to that, imbuing a sense of familiarity yet avoiding predictability. Feldman spoke of the music's goal to achieve "integration…the real organic integration of classical and modern jazz."
Since relocating from Switzerland to New York City in 1998, Sylvie Courvoisier has been and active force in the downtown New York scene and has released albums on John Zorn's Tzadik label as well as ECM. In both her playing and her composition, she reflects neoclassical influences mixed with European improvised styles and draws much inspiration from the unique sphere of experimental genres that make up the New York downtown scene, where she regularly performs and records with Ikue Mori and Susie Ibarra (as the trio Mephista), John Zorn, Yusef Lateef, Evan Parker, Lotte Anker, and Fred Frith, among others.
Mark Feldman belongs to that selective cadre of jazz violinists dominated by such greats as Noel Pointer and Stéphane Grappelli, all while honing a storyteller's vernacular so much his own that he may one day be seen as the pioneer of a new tradition. Firmly established as one of jazz's finest string players, his musical explorations establish a climate often associated with contemporary composition, yet include a sense of spontaneous ensemble interaction so critical to the jazz language. In concert he has performed with Paul Bley, Anthony Davis, Tim Berne, Muhal Richard Abrams, and many more.
SPECIAL FREE EVENT: Join New Music Circle and Jackson Pianos as we host a special event with Sylvie Courvoisier and Mark Feldman at the wonderful showroom at Jackson Pianos. Both artists will engage in a short performances and take time to discuss their work, music techniques, and participate in a Q+A. Snacks and beverages will be served. No RSVP is needed.
Thursday, December 3rd at Jackson Pianos (4354 Olive St, St. Louis, MO 63108). 6:30pm – 7:30pm. Free and open to the public.