New Music Circle presents two special free events with Cooper-Moore on Thursday, October 24, 2013.
(1) Northside Project Workshop with Cooper-Moore
5pm – 6pm
at the Northside Workshop
(in conjunction with Old North Saint Louis Restoration Group)
1306  Saint Louis Ave., 63106 (map)
cost: FREE
*Additional information: https://www.facebook.com/ONSLRG
(2) Special performance by Cooper-Moore at Foam
7:30pm – 8:30pm
at Foam Coffee + Beer
3359 S. Jefferson Avenue., 63118 (map)
cost: FREE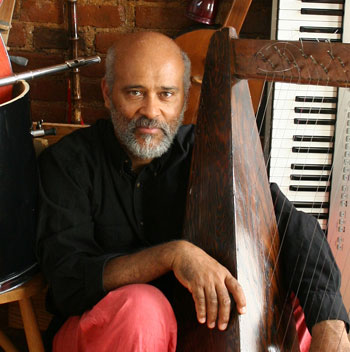 As a composer, performer, instrument builder/designer, storyteller, teacher, mentor, and organizer, Cooper-Moore has been a major, if somewhat behind-the-scenes, catalyst in the world of creative music for over 30 years. As a child prodigy Cooper-Moore played piano in churches near his birthplace in the Piedmont region of the Blue Ridge Mountains of Virginia. His performance roots in the realm of avant jazz music date to the NYC Loft Jazz era in the early/mid-70s. His first fully committed jazz group was formed in 1970 with David S. Ware and drummer Marc Edwards. Sonny Rollins asked them to open for him at the Village Vanguard in 1973, and they did so with aplomb.  earned a B.A. in Music Education from The Catholic University of America in Washington, D.C. and later studied composition-arranging at the Berklee College of Music in Boston, MA.
From 1981 to 1985, Cooper-Moore focused his energies on developing and implementing curriculums to teach children through music via the Head Start program. Returning to New York in 1985, he spent a great part of his creative time working and performing with theatre and dance productions, largely utilizing his hand-crafted instruments. It was not until the early 90s, when William Parker asked him to join his group In Order To Survive, that Cooper-Moore's pianistic gifts were again regularly featured in the jazz context.
The New Music Circle will present a concert by In Order To Survive (featuring William Parker, Cooper-Moore, Hamid Drake, Rob Brown, and Lewis Barnes) onFriday, October 25th, at the Mad Art Gallery (2727 S. 12th Street).