We are pleased to announce our 59th Season of New Music Circle. Year 59 is set to offer what may be one of the most far ranging, high quality seasons ever presented by New Music Circle. From electronic music and visual arts, avant-garde jazz and rock to modern composition, we have a dynamic program in store for you! Please come, interact, and enjoy the fantastic year ahead.
Please stay tuned for updates on these concerts, workshops, and special events. Tickets will be available this week to purchase – announcements to come.
–
Steve Swell Quintet
Saturday, October 7, 2017
The Stage at KDHX
3524 Washington Ave., 63103 (map) – FB event page here
Steve Swell – trombone & compositions
William Parker – upright bass
Chad Taylor – drums
Jemeel Moondoc – saxophones
Dave Burrell – piano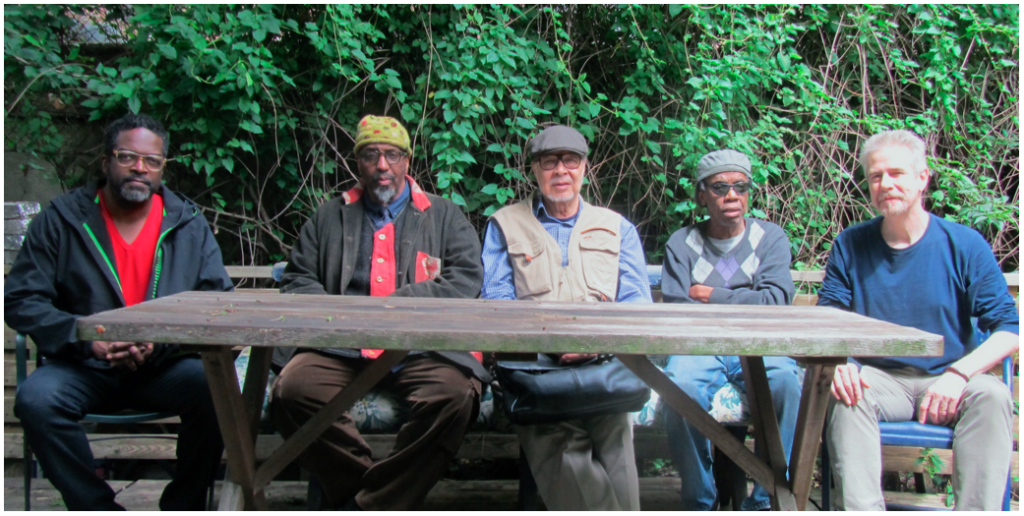 Veteran free-jazz trombonist and composer Steve Swell makes his St. Louis debut, performing with master bassist William Parker, drummer Chad Taylor, saxophonist Jemeel Moondoc, and pianist Dave Burrell. Long associated with New York's downtown avant-garde scene,  Swell began his career in 1975, and since then he has built one of the most expansive and wide-ranging careers in jazz, touring and recording with artists such as Tim Berne and Ken Vandermark. His work as a collaborator and sideman is extensive, and significant partnerships include Anthony Braxton, Cecil Taylor, and John Zorn.
Dave Burrell is known for his solo-piano works as well as his collaborations with Archie Shepp and Pharaoh Sanders,. William Parker is an iconic musician who the Village Voice has called, "The most consistently brilliant free jazz bassist of all time". In 2013, he received the Doris Duke Performing Arts Award in recognition of his musical impact over the past 40 years. Jemeel Moondoc was a featured soloist for Cecil Taylor. Chad Taylor is a regular collaborator of Marc Ribot and Pharaoh Sanders, and continues his decade-plus role as percussionist in Chicago Underground Duo.
Presented in partnership with KDHX
–
John Wiese
Saturday, November 11, 2017
Xavier Hall University Theatre, Saint Louis University
3733 West Pine Mall, 63108
John Wiese – electronics & compositions for St. Louis ensemble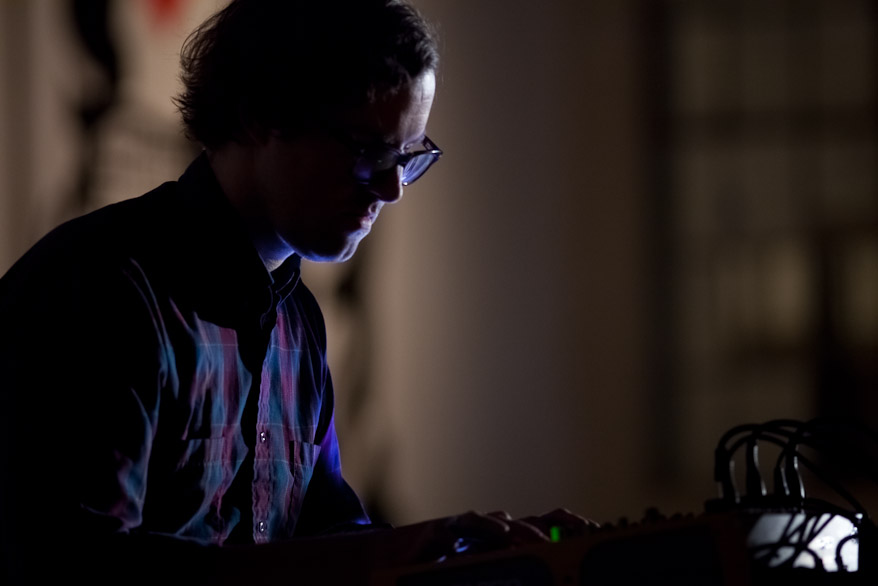 John Wiese is an artist and composer living in Los Angeles, California. He is a native of St. Louis, where as a young teenager he began experiments with home-recording on a cassette 4-track. He has since solidified his name as a tremendously prolific performer and recording artist, with expertise in composition, texture, and sonic experimentation. Wiese says he doesn't really think of himself as a musician in the traditional sense, and instead of writing purely notated music he works with manipulating, cutting and arranging sounds electronically. The end product is more like a meticulous collage, built upon dense, nuanced sounds ranging from the minimal to the frenetic.
With a lengthy résumé of solo releases, Wiese's projects as a collaborator have increased over the last decade to produce works with the likes of veteran jazz-improviser, Evan Parker, rock bands like No Age and Wolf Eyes, and metal groups such as Sunn O))). Recently, he has lead collaborative projects for large groups, developing a method of "text-based scores". For his St. Louis performance he will debut a site-specific composition that includes over 20 local musicians, utilizing both traditional and non-traditional instrumentation.
Co-presented in partnership with Department of Fine & Performing Arts, Saint Louis University
Special support provided has been provided Arts and Education Council
________________
Battle Trance
Saturday, Dec 2, 2017
The Luminary
2701 Cherokee St., 63118
Travis Laplante – saxophone
Patrick Breiner – saxophone
Matthew Nelson – saxophone
Jeremy Viner – saxophone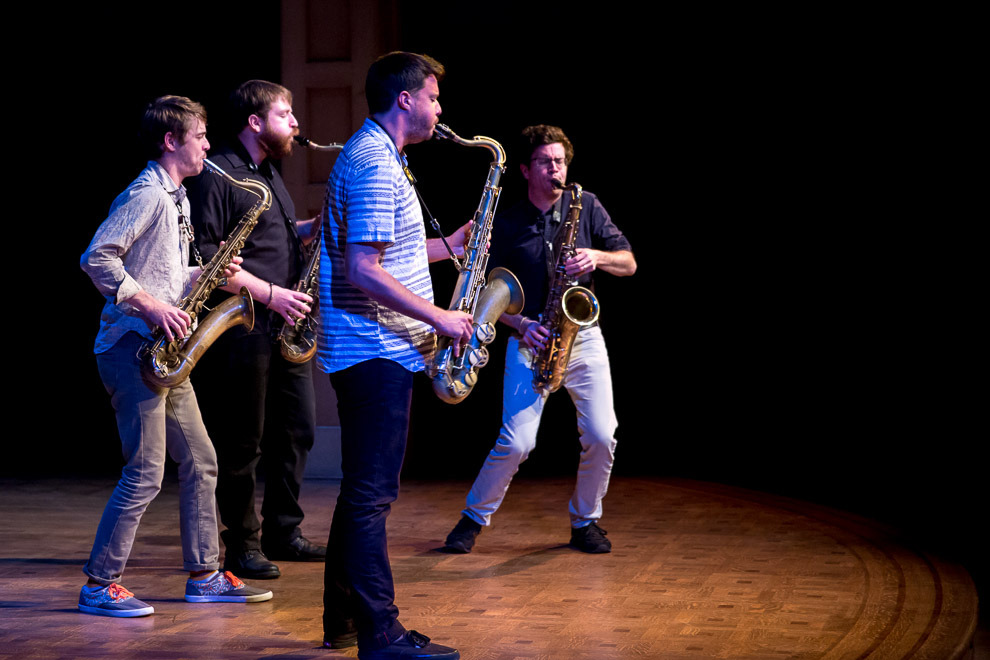 The all-tenor sax quartet, Battle Trance, specializes in the uncanny transformations of their instruments.  Together they perform longform, meditative pieces with a strong emphasis on drone, circular breathing, and trancelike repetition, bringing to mind the works of 20th Century minimalist composers like Philip Glass or Steve Reich, but with an added primal energy and urgency reminiscent of Pharaoh Sanders or Joe McPhee.
Battle Trance has released two albums to date on the prolific indie-label, NNA Tapes:  Palace of the Wind (2014) and Blade of Love (2016). Both albums  have won praise for their genre-crossing compositions, drawing comparisons to the contemporary classical world, modal avant-garde jazz, and noise-based experimentalism. In live settings the quartet is capable of creating a hypnotic fury of notes, unifying both the harmonic and physical in sound.
presented in partnership with The Luminary
_______________
ICE (International Contemporary Ensemble)
Saturday, January 13, 2018
Pulitzer Arts Foundation
3716 Washington Blvd, 63108
Claire Chase – flute
Tyshawn Sorey – drums, percussion, glockenpsiel , compositions
Corey Smythe – piano & compositions


Three years ago, NMC drew a standing-room-only crowd to the Pulitzer, to see Claire Chase, who The New York Times described as "one of the most electrifying flute players on the planet." She now returns to St. Louis with multi-instrumentalist Tyshawn Sorey and pianist Corey Smythe, core members of the arts collaborative she founded, ICE, which The New Yorker described as "America's foremost new music ensemble."
Chase is a MacArthur Genius Grant recipient, and through ICE, has premiered more than 800 new music works around the world. Sorey, a composer, percussionist, trombonist, and pianist, has just released his sixth record, Verisimilitude, this August; The New York Times called it "his most captivating album yet," praising the effortless way it obliterates the line between composition and improvisation. Smythe, who performed on the album, is known for his strong jazz improvisation skills, as well as his work in classical and new music. He can be heard on Hilary Hahn's Grammy Award-winning In 27 Pieces and at the Mostly Mozart festival in Lincoln Center.
For this concert, the trio will perform an eclectic program:  Pauline Oliveros' Earth Ears and Environmental Dialogue, Morton Feldman's 1978 work Why Patterns? and two new pieces: a Smythe/Sorey duet, and a Tyshawn Sorey composition for drums and contrabass flute.
Presented in partnership with Pulitzer Arts Foundation.
Special support for this event has been made possible by the Phoebe Dent Weil Charitable Trust.
________
Robert Aiki Aubrey Lowe
Saturday, February 24, 2018
Urb Arts
2600 N 14th St, 63106
Robert Aiki Aubrey Lowe – modular synthesizer, electronics, voice, and video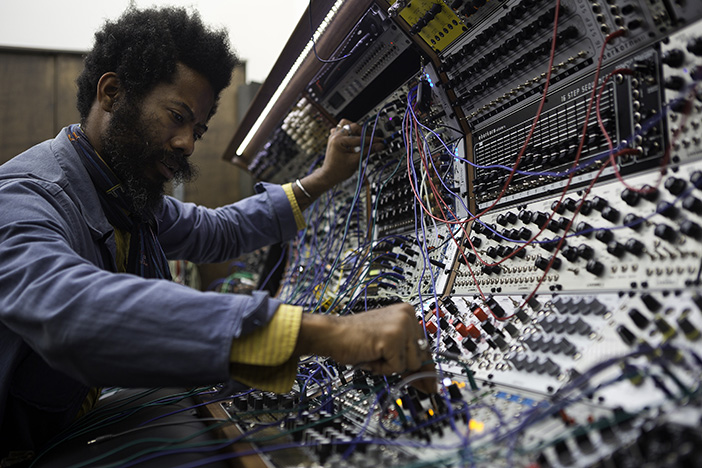 Some artists find their voice and then spend their career perfecting it. There are others, however, who spend an entire lifetime in continual transition, as Robert Aiki Aubrey Lowe has done. Beginning with his solo electronic work in the late-nineties, Lowe's vernacular has continually evolved deeper into a world comprised of  spontaneous electronic sound, droning modular synthesizer, and vocal improvisations.
Lowe was a vital part of the thriving Chicago underground for some thirteen years before eventually moving to his current home in Brooklyn, where he entered a new chapter of musical creativity. Enamored with the possibilities of electronics, he began exploring the pliable workings of modular synthesizers: "They're interchangeable, and have the potential to be ever-transforming," he enthuses. Upon listening to his recorded works, one encounters Lowe's intuitive method of using analog modular systems to echo the organic nature of the human voice to produce subliminal, trance-like sounds.
_________________
The Thing
Thursday, March 22.  2018
Off Broadway
3509 Lemp Ave., 63118
Mats Gustaffson – saxophones
Ingebrit Håker Flaten – upright and electric basses
Paal Nilssen-Love – drums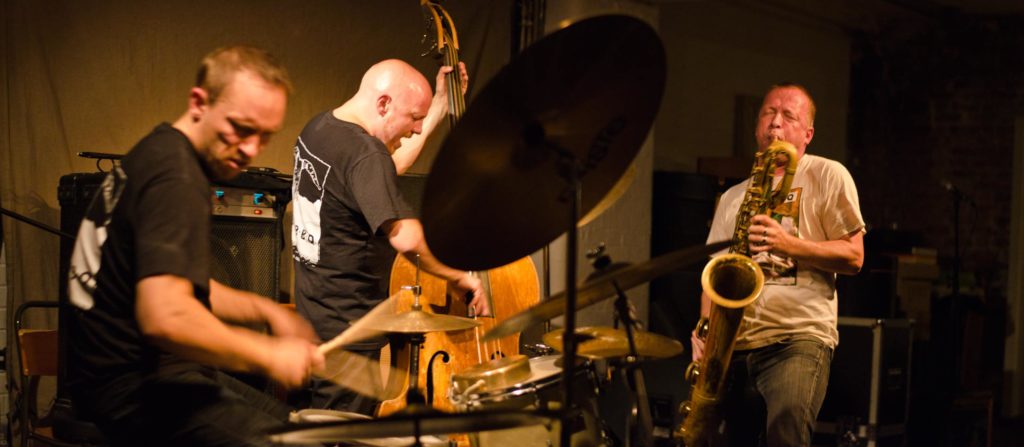 Swedish/Norwegian trio The Thing was formed to create a long awaited synthesis where garage rock and jazz styles could merge by means of this high energy vehicle. Though the group initially came together in 1999 as a tribute project dedicated to legendary composer/trumpeter Don Cherry, it quickly evolved and found its own identity, performing improvised music, informed by the urgency and simplicity of garage rock. If you line up a list of The Thing's cover selections (songs by The Stooges, The Cramps, The Sonics, and PJ Harvey) beside their roster of collaborators (experimental-rock-luminaries like Jim O'Rourke, Joe McPhee, Peter Brötzmann, and Neneh Cherry) you can get an idea of where their sensibilities lie.
Boot! (2013) is The Thing's sixth full-length album, and it is among the group's finest efforts at pairing broad physicality with heady free jazz technique. The record opens with a high-volume reimagining of India, from John Coltrane's 1963 album Impressions. Here, spiritual jazz is recast as raw and sludgy stoner rock, producing an album of genuine "fusion music" in the best sense of the word.
___________________
C. Spencer Yeh / Andrew Lampert
Friday, April 6th or Saturday, April 7th, 2018
Venue TBA
C. Spencer Yeh – violin, voice, and electronics
Andrew Lampert – 8mm film, 16mm film, and digital video for site specific installation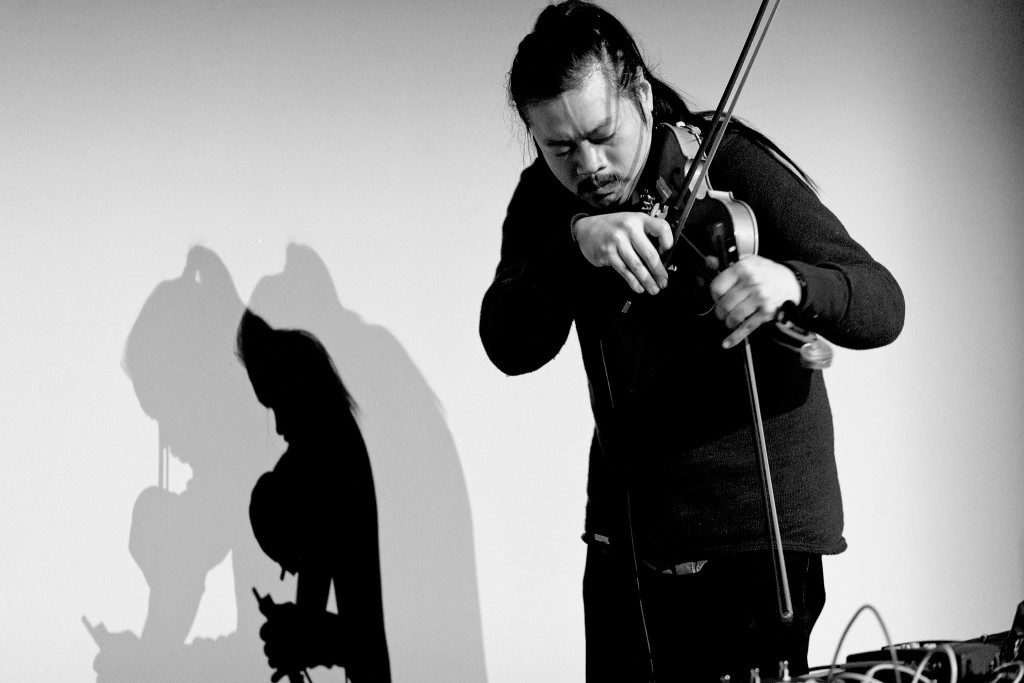 C. Spencer Yeh is recognized for his interdisciplinary activities and collaborations as an artist, instrumentalist (on violin, voice, and electronics), as well as his music project Burning Star Core. Much of Yeh's video work engages with avant-garde composition and performance, variously as studies in form and technique, or as documentation of other artists working within his musical, geographic or social spheres.  Born in Taiwan, he currently works out of Brooklyn, NY. Yeh's sound draws inspiration from the late drone music pioneer Tony Conrad, with whom he has collaborated, and his videos reflect a prevailing fascination with experimental film. He edits both media with equal precision, inviting the audience to bridge any possible gaps between these disciplines. He was a 2015 Artist-in-Residence at ISSUE Project Room, and now works as a programmer for Spectacle Theater in Brooklyn NY. His video works are distributed by Electronic Arts Intermix, and he is a contributing editor to BOMB magazine.
Andrew Lampert is at the forefront of a new generation of artists engaging with film, video and performance, revisiting and extending the dialogue around an expanded definition of cinema. Utilizing everything from 8mm film to digital projections, Lampert pursues the synergy between artist, art, and audience in a public space, especially as it pertains to cinema. He brings unscripted and chance elements into cinema's veneer of control, and often works with found material. Originally from St. Louis, he currently lives and works in Brooklyn, NY.  His work has been shown at the 2006 Whitney Biennial; The Getty Museum, and the British Film Institute. In addition to his work as an interdisciplinary artist, he was the Film Archivist at Anthology Film Archives in New York for over a decade, and in 2016 edited a book on Beatnik artist/avant-garde filmmaker, Harry Smith.
Presented in partnership with The Luminary
______________________
Matana Roberts
Saturday, May 19th, 2018
Venue TBA
Matana Roberts – saxophone & spoken word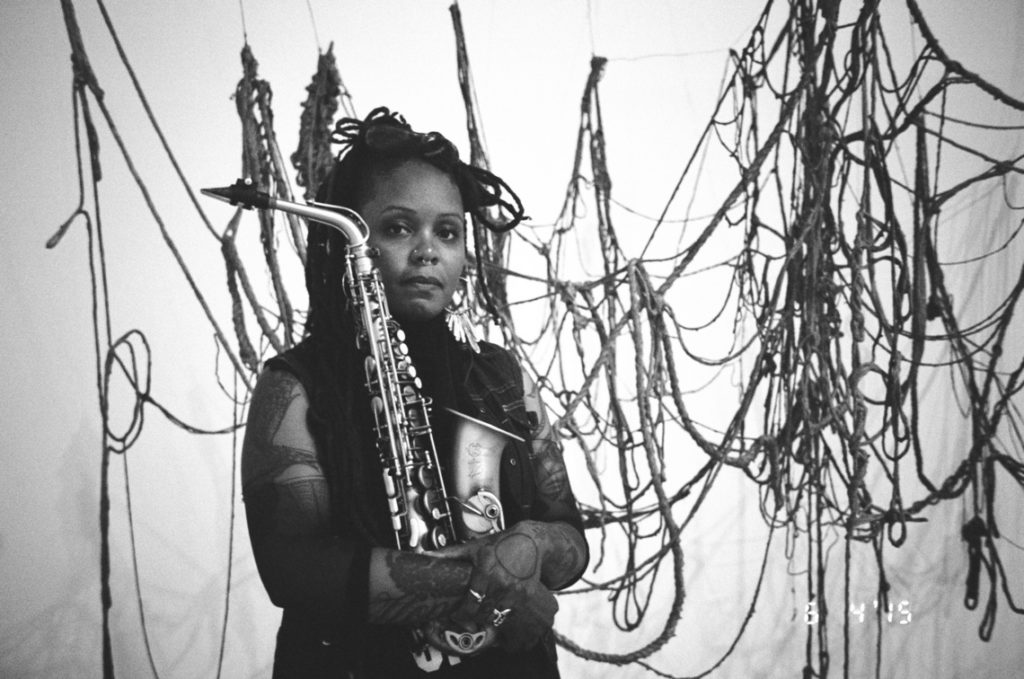 Jazzthetik describes composer, bandleader, saxophonist, and experimentalist Matana Roberts as "the spokeswoman for a new, politically conscious and refractory jazz scene." She first came to prominence with the Chicago trio Sticks & Stones (with bassist Josh Abrams and drummer Chad Taylor), but it's her more recent solo work that has attracted international critical acclaim. Thus far, three of a projected twelve chapters in her powerful Coin Coin project have been released, which makes use of a technique Roberts describes as "panoramic sound quilting." Using a wide range of sounds—spoken oral history, poetry, hymns, fragments of American standards, opera, improvisation, and sometimes dense, almost symphonic soundscapes—Roberts has set out to describe the experiences of the Black diaspora, using the stories of her family and her ancestors (The namesake of the project is Roberts's ancestor Coincoin, a Louisiana-born free woman of color).
Critic Peter Margasek wrote that with Coin Coin, Roberts takes "a long look at something ghostly, tragic, and beautiful. She is carving out her own aesthetic space,