Presented by New Music Circle and KDHX
Saturday, April 16, 2016, 8:00 PM concert, 7:00 PM doors
at The Stage at KDHX, 3524 Washington Ave. 63103
Tyshawn Sorey — drums, Corey Smythe — piano, Chris Tordini — bass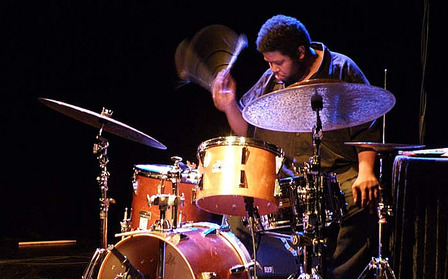 Widely considered one of the most talented and influential experimental jazz musicians of his generation, Tyshawn Sorey is a percussionist and composer whose innovative work defies all categories.
In 2015 Sorey received the prestigious 2015 Doris Duke Impact Award from the Doris Duke Foundation Performing Arts Awards. The International Contemporary Ensemble, Spektral Quartet, and TAK Ensemble have performed his compositions, which integrate African Diasporic, Western classical, and avant-garde musical genres. Sorey's style embraces a basic paradox in contemporary experimental music, combining highly technical precision with the raw, virtuosic energy of improvisation.
Sorey has performed alongside most of the leading improvisers of our time, including Muhal Richard Abrams, Steve Coleman and Anthony Braxton, and has had his work featured at major music festivals throughout the US. He is currently pursuing a PhD at Wesleyan University.
Tyshawn Sorey's latest project, Alloy Trio, features original compositions with Corey Smythe on piano and Christopher Tordini on upright bass. The pieces focus on both space and texture, allowing for the reiteration of notes, patterns and silences. In live settings these pieces are uniquely unrepeatable and places the listener in the moment, alongside the musicians.