You can help continue NMC concerts and workshops by shopping at Barnes and Noble (Ladue) on Saturday, *Dec 17th!  A percent of any in-store purchases on this date will help support New Music Circle presentations. Books, magazines, coffee and food all apply!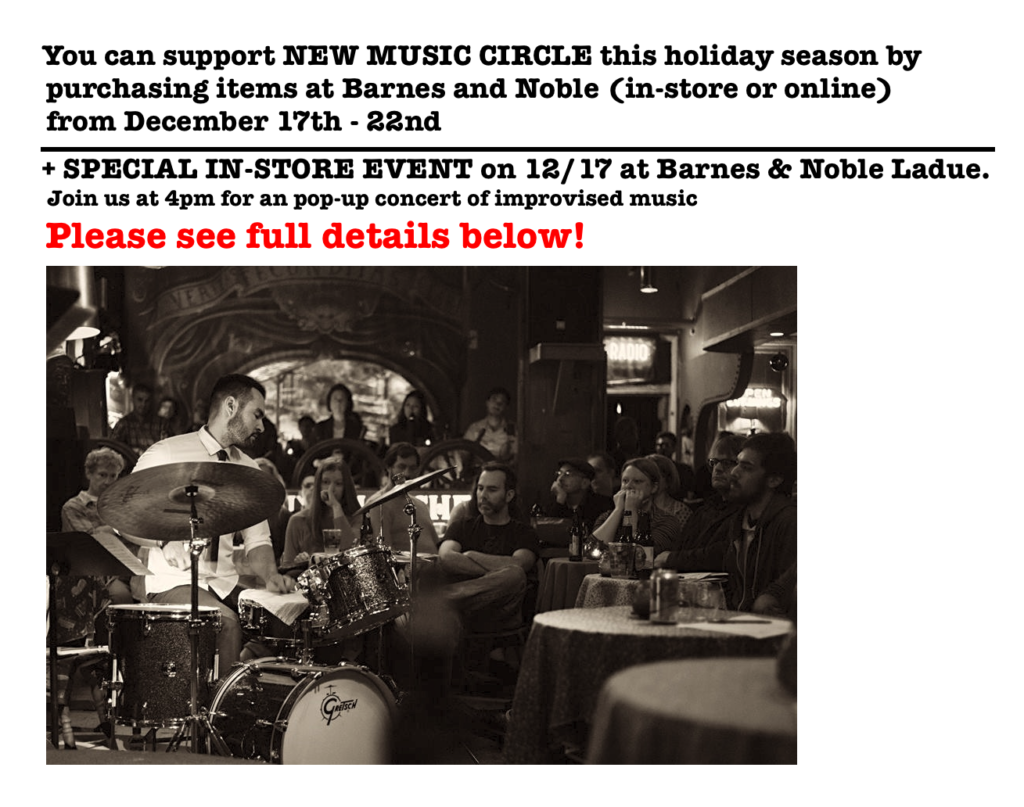 * If you cannot attend please note that you can still support us by shopping Barnes & Noble online! Applicable from 12/17 – 12/22. See below for details. 
– please see below for information
– see here for voucher code
______

Where:
Barnes & Noble
8871 Ladue Rd
St. Louis, MO 63124
______
When:
Instore Event + Pop-Up
Special pop-up performance by Kevin Harris & Alex Cunningham at 4:00pm in the Art section. Chairs will be provided.
Please note: In-store purchases apply only on December 17th. All other purchases can be done online until Dec 22nd (see below). 
New Music Circle will host a display table with experimental-music related books and merchandise!
Come say hi and pick up info about upcoming NMC events and support vouchers.
Important Note: Please ask for the book fair voucher with our ID# on it at the check out, 
NMC will not receive credit if the ID# is not entered/scanned. The flyer attached in this email can also be printed and brought to the store.
______
How you support New Music Circle:
10% of purchases entered with our book fair ID, in store (one day) and online (five days).
Food (sandwiches, quiche, baked goods, etc) and drink purchases also apply to the cause! Whole cheesecakes, Godiva chocolate, and bags of coffee are just a few options.
______
Online:
Can't attend our event at Barnes & Noble?
from 12/17 – 12/22.
Just enter book fair ID #: 12034286