New Music Circle and The Department of Music at Washington University present
Kris Davis & Craig Taborn (duo)
Saturday, October 1. 2016
560 Music Center (E. Desmond Lee Building)
560 Trinity Ave. 63130

Kris Davis – piano
Craig Taborn – piano
This concert will be professionally recorded for a cd release.
http://www.krisdavis.net/
Pianist-composer Kris Davis has prospered as one of the singular talents on the New York jazz scene, known for her ability to interweave jazz standards equally with experimental improvisations. Kris cites 20th century composers György Ligeti and Morton Feldman as inspirations in her quest to form complex compositions, yet she utilizes the sense of freedom found in avant-garde jazz to push these influences into new communicative territory. Her 2011 album, Capricorn Climber, made "best of the year" lists inThe New York Times, NPR, and Art Forum. In 2015 she was granted the Doris Duke Impact Award.
http://www.craigtaborn.com/
Craig Taborn is as likely to be playing free-improvisation with Roscoe Mitchell (Art Ensemble of Chicago), as he is to be playing straight-ahead jazz at New York City's Village Vanguard. Though as adept in composed solo piano settings (see 2011's critically acclaimed Avenging Angel) as with electro-acoustic sound collage (see 2004's electronic album Junk Magic), his work resists genre labeling. While he has had a transformative impact on jazz, he remains even more deeply invested in the avant-garde models he has been exploring ever since his teenage years in Minneapolis, citing Cecil Taylor and Sun Ra as influences. Jazz Times ranked Taborn in its 2013 critics' poll as "best piano player", and in 2014 he was granted a Doris Duke Artist Award.
---
NMC and KDHX Present
Sylvaine Hélary's Spring Roll Quartet
Saturday, October 22nd. 2016
The Stage at KDHX
3524 Washington Ave. 63103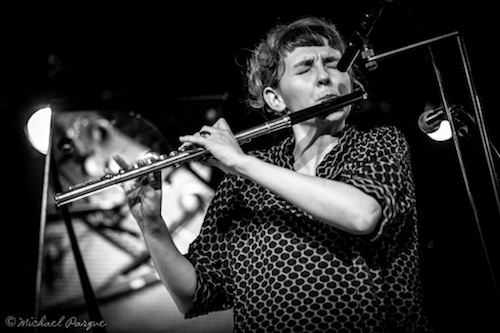 Sylvaine Hélary (flute/compostions)
Antonin Rayon (piano/MS20 synthesizer)
Hugues Mayot (saxophones/clarinets)
Sylvain Lemêtre (vibraphone/percussion)
Sylvaine Hélary (France) is a composer, and flutist, active in a multitude of endeavors, from performance art, composing for large ensembles, to improvised engagements with Chicago figures such as cellist Fred Lonberg-Holm and percussionist Mike Reed. Her most recent ensemble, working under the title Spring Roll, covers a span of styles in an almost collage-like manner. Spring Roll's thematically dense surrealist arrangements with percussive counterpoint warrant comparison to composers like Ornette Coleman and Harry Partch, as well as underground-rock greats Henry Cowell and Captain Beefheart. The quartet includes Hélary, Antonin Rayon (piano/MS20 synthesizer), Hugues Mayot (saxophones/clarinets), and Sylvain Lemêtre (vibraphone/percussion).
---
Jen Shyu
Friday, November 11. 2016
The Kranzberg Arts Center
501 N Grand Blvd. 63103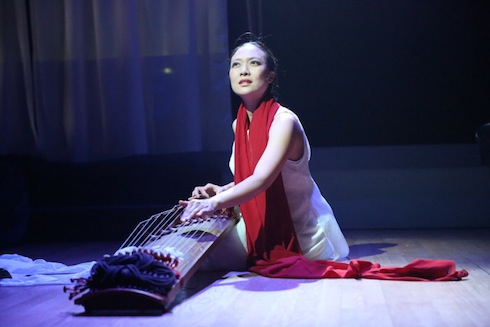 Jen Shyu – perfomance / multiple instruments
http://www.jenshyu.com/
Born to Taiwanese and East Timorese immigrant parents, 2016 Doris Duke Artist Jen Shyu is an experimental jazz vocalist, composer, multi-instrumentalist, dancer, producer, and Fulbright scholar. Known mostly for her virtuosic singing with saxophonist and 2014 MacArthur Genius Fellow Steve Coleman since 2003 and having collaborated with innovators such as Anthony Braxton, she has performed her own music around the world in such venues as Carnegie Hall, Lincoln Center, Brooklyn Academy of Music, Metropolitan Museum of Art, and festivals around the world. The New York Times reviewed her live concerts as "the most arresting performances I've seen over the past five years. It's not just the meticulous preparation of the work and the range of its reference, but its flexibility: She seems open, instinctual, almost fearless". The Wall Street Journal said, "Her voice, a wonder of technical control and unrestrained emotion, tells a story dotted with well-researched facts and wild poetic allusions. She claims both as her truths."
Jen is currently based in New York City, touring with her group Jade Tongue and performing Solo Rites: Seven Breaths in the US and abroad. In March 2016, she premiered Song of Silver Geese, a multilingual, ritual music drama composed for Jade Tongue, dancer Satoshi Haga, and Mivos Quartet at Roulette. She is currently working on this and her next solo work, which will result in a United States 50-state "Songs of the World Now (SOWN)" tour.
– workshops TBA –
---
Tomeka Reid / Nicole Mitchell / Mike Reed (Trio)
Saturday, December 3rd, 2016
Joe's Cafe
6014 Kingsbury Ave. 63112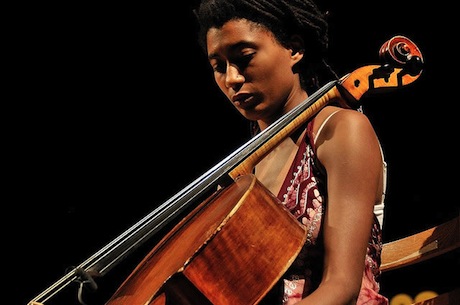 Tomeka Reid – cello
Nicole Mitchell – flutes
Mike Reed – drums
Cellist Tomeka Reid, flutist Nicole Mitchell, and drummer Mike Reed are torchbearers of Chicago's innovative jazz scene, as well as the most prominent members and educators of the third generation of The Association for the Advancement of Creative Music (AACM), a historically important Chicago arts organization. The trio served on the organization's executive board from 2009-2011. Their music both touches upon and advances the organization's motto, "Ancient to the Future", and celebrates African-American culture while reaching across genres and integrating new ideas into the legacy of jazz, experimentalism, and composition.
Over the past decade, cellist Tomeka Reid has become an integral component of her city's jazz and improvised-music communities, working regularly with Joshua Abrams and Matana Roberts. Reid currently plays in several high-profile groups, including collaborations with the Chicago Jazz Philharmonic, the AACM's Great Black Music Ensemble, and has written music for a Millennium Park concert series. Nicole Mitchell is a flutist, composer, bandleader and educator, who has repeatedly been awarded by DownBeat Critics Poll and the Jazz Journalists Association as "Top Flutist of the Year". Drummer/composer Mike Reed has also extended his work into many creative territories. In addition to drumming in a rotating cast jazz and improvised groups, he's a founding director of the Pitchfork Music Festival, and a director of the acclaimed performing arts venue, Constellation.
---
Iva Bittová & Hamid Drake (duo)
January 21st, 2017
Joe's Cafe
6014 Kingsbury Ave. 63112


Iva Bittová – violin / vocals
Hamid Drake – drums / percussion
Vocalist/violinist Iva Bittová (Czech Republic) is internationally known for her unique music, which draws on influences from her native Moravia and her lineage in the rich traditions of Slovakia and the Roma people. Her ability to bring those influences together with such modern inspirations as Meredith Monk's wordless vocal pieces and free improvisation,  creates music that feels both ancient and new, simultaneously surprising and familiar. Bittová is a storyteller who rarely uses actual language to convey the emotions of her stories. While either singing wordlessly or using an implied language of her own, she crafts intimate, engrossing narratives, ultimately creating her own truly personal style of folk music.
Hamid Drake is an American jazz drummer and percussionist, living in Chicago, but spending a great deal of his time touring worldwide. Drake is widely regarded as one of the great percussionists in jazz and improvised music, with a uniquely poetic approach to drumming; he draws from Afro-Cuban, Indian and African percussion instruments and influences. His musical involvements date back to 1974 when he began working with the AACM and felt impelled to explore earlier forms of drumming. He soon began working with several of the greatest innovators in jazz at the time: Don Cherry, Pharoah Sanders, and Peter Brötzmann. In live settings he continually takes collaborators to higher rhythmic levels, while at the same time carving out space for his own explorations. For over 30 years he has remained one of the most consistently venturesome and compelling drummers of his time.
-additional workshops/events tba-
---

New Music Circle and The Luminary present
Ikue Mori & Nate Wooley (solo and duo sets)
Saturday February 18th, 2017
At The Luminary
2701 Cherokee St, St. Louis, MO 63118

Ikue Mori – electronics / computer
Nate Wooley – trumpet
NYC Trumpeter, Nate Wooley, is an improviser with a tactile approach to his craft, as part of an international revolution in improvised trumpet performance and is considered a leader of a movement to redefine the physical boundaries of the horn.  A combination of vocalization, extreme extended technique, amplification and feedback, are utilized in Wooley's 'live' sets. In 2011 he was an artist in residence at Issue Project Room (Brooklyn) and in 2016 was a recipient of a Foundation for Contemporary Arts Awards (founded in 1963 by John Cage and Jasper Johns).
Ikue Mori has been a key experimental musician since moving to New York City from Tokyo in 1977. She began her career playing drums for the seminal "no wave" group DNA. Throughout the 1980s Mori improvised and recorded with a wide range of experimental musicians, and by 1985 Mori had completely abandoned the standard drum set in favor of her own unique drum machine/sampler setup. In the years to come she further extended her electronic practice into 'live' computer performance, creating electronic music that evoked textural qualities of "real-world" sounds. Ikue Mori remains an ongoing collaborator with Sonic Youth, Jim O'Rourke, Okkyung Lee, and Evan Parker.
Presented in partnership with The Luminary
-additional workshops/events tba-
---
New Music Circle and KDHX present
Erik Friedlander's Black Phoebe Trio
Thursday, March 16. 2017
The Stage at KDHX
3524 Washington Ave. 63103
Erik Friedlander – cello / compositions
Shoko Nagai – piano / accordian / electronics
Satoshi Takeshi – drums
"It's not your skill level, it's how much you communicate," cellist Erik Friedlander suggests. "It's how much you express that the audience really wants to hear. They come to hear you be real." Friedlander, however, is clearly not a musician lacking for chops. The years of training and gigging he did to establish himself in New York City's avantgarde jazz scenes, through his distinct approach to cello, has taken him all over the genre map by collaborative efforts with artists like Laurie Anderson, Mike Patton, The Mountain Goats, and extensive duties in John Zorn's Masada groups. Recently he has focused on his own soloist and composer work, releasing a series of albums on ECM. In these works Friedlander displays an underlying sonic curiosity and ability to aurally convey deep emotional experience that shapes the ongoing evolution of his work. In his most most recent group project, Black Phoebe Trio, Friedlander brings together the talents of emerging talents Shoko Nagai (piano, accordion, electronics) and Satoshi Takeishi, (percussion).
This concert is presented in partnership with KDHX
– workshops TBA –
---
Thomas Fujiwara's The Hook Up
April 28th or 29th, 2017
The Stage at KDHX
3524 Washington Ave. 63103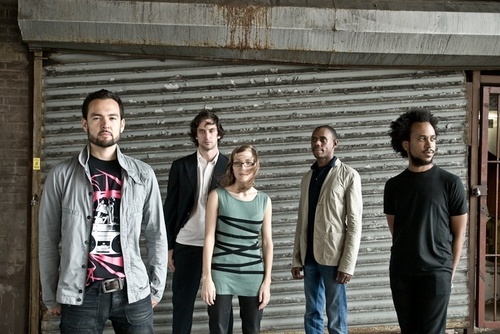 Tomas Fujiwara – drums / compositions
Mary Halvorson – guitar
Brian Settles – saxophones
Jonathan Finlayson – trumpet
Michael Formanek – upright bass
A drummer working along jazz music's fringe, Tomas Fujiwara's résumé boasts memberships in the Taylor Ho Bynum Sextet and the cooperative trio Thumbscrew, featuring acclaimed guitarist Mary Halvorson and veteran bassist Michael Formanek. Fujiwara's flagship ensemble, The Hook Up, performs rhythmically upbeat tunes, their music often alluding to the aesthetic qualities of Wayne Shorter or Miles Davis of the 1960s – sleek, enigmatically post-bop, more suggestive than demonstrative, complicated but never random. 2016 saw the release of After All is Said, The Hook Up's third album, which was honed extensively in 'live' performance, emphasizing Fujiwara's nuanced arrangements while honoring the dynamics of its virtuosic soloists: guitarist Halvorson, tenor saxophonist Brian Settles, trumpeter Jonathan Finlayson and bassist Formanek.
---
New Music Circle Showcase TBA
May 2017