New Music Circle and The Luminary present
Ikue Mori & Nate Wooley (solo and duo sets)
Saturday February 18th, 2017
At The Luminary
2701 Cherokee St, St. Louis, MO 63118

Ikue Mori – electronics / computer
Nate Wooley – trumpet
NYC Trumpeter, Nate Wooley, is an improviser with a tactile approach to his craft, as part of an international revolution in improvised trumpet performance and is considered a leader of a movement to redefine the physical boundaries of the horn.  A combination of vocalization, extreme extended technique, amplification and feedback, are utilized in Wooley's 'live' sets. In 2011 he was an artist in residence at Issue Project Room (Brooklyn) and in 2016 was a recipient of a Foundation for Contemporary Arts Awards (founded in 1963 by John Cage and Jasper Johns).
Ikue Mori has been a key experimental musician since moving to New York City from Tokyo in 1977. She began her career playing drums for the seminal "no wave" group DNA. Throughout the 1980s Mori improvised and recorded with a wide range of experimental musicians, and by 1985 Mori had completely abandoned the standard drum set in favor of her own unique drum machine/sampler setup. In the years to come she further extended her electronic practice into 'live' computer performance, creating electronic music that evoked textural qualities of "real-world" sounds. Ikue Mori remains an ongoing collaborator with Sonic Youth, Jim O'Rourke, Okkyung Lee, and Evan Parker.
Presented in partnership with The Luminary
-additional workshops/events tba-
---
New Music Circle and KDHX present
Erik Friedlander's Black Phoebe Trio
Thursday, March 16. 2017
The Stage at KDHX
3524 Washington Ave. 63103
Erik Friedlander – cello / compositions
Shoko Nagai – piano / accordian / electronics
Satoshi Takeshi – drums
"It's not your skill level, it's how much you communicate," cellist Erik Friedlander suggests. "It's how much you express that the audience really wants to hear. They come to hear you be real." Friedlander, however, is clearly not a musician lacking for chops. The years of training and gigging he did to establish himself in New York City's avantgarde jazz scenes, through his distinct approach to cello, has taken him all over the genre map by collaborative efforts with artists like Laurie Anderson, Mike Patton, The Mountain Goats, and extensive duties in John Zorn's Masada groups. Recently he has focused on his own soloist and composer work, releasing a series of albums on ECM. In these works Friedlander displays an underlying sonic curiosity and ability to aurally convey deep emotional experience that shapes the ongoing evolution of his work. In his most most recent group project, Black Phoebe Trio, Friedlander brings together the talents of emerging talents Shoko Nagai (piano, accordion, electronics) and Satoshi Takeishi, (percussion).
This concert is presented in partnership with KDHX
– workshops TBA –
---
Thomas Fujiwara's The Hook Up
April 28th or 29th, 2017
The Stage at KDHX
3524 Washington Ave. 63103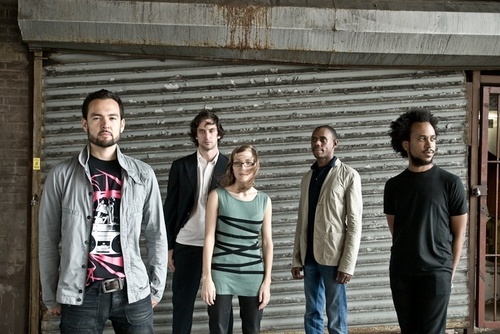 Tomas Fujiwara – drums / compositions
Mary Halvorson – guitar
Brian Settles – saxophones
Jonathan Finlayson – trumpet
Michael Formanek – upright bass
A drummer working along jazz music's fringe, Tomas Fujiwara's résumé boasts memberships in the Taylor Ho Bynum Sextet and the cooperative trio Thumbscrew, featuring acclaimed guitarist Mary Halvorson and veteran bassist Michael Formanek. Fujiwara's flagship ensemble, The Hook Up, performs rhythmically upbeat tunes, their music often alluding to the aesthetic qualities of Wayne Shorter or Miles Davis of the 1960s – sleek, enigmatically post-bop, more suggestive than demonstrative, complicated but never random. 2016 saw the release of After All is Said, The Hook Up's third album, which was honed extensively in 'live' performance, emphasizing Fujiwara's nuanced arrangements while honoring the dynamics of its virtuosic soloists: guitarist Halvorson, tenor saxophonist Brian Settles, trumpeter Jonathan Finlayson and bassist Formanek.
---
New Music Circle Showcase TBA
May 2017