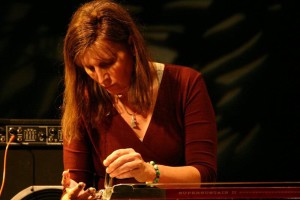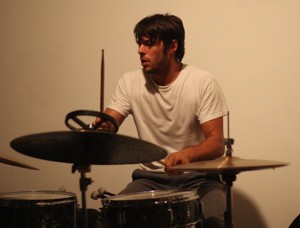 Please join New Music Circle for our 2016 opening concert on Friday, January 22nd, featuring Baltimore pedal steel guitarist, Susan Alcorn, and Chicago percussionist,Frank Rosaly.
KDHX wrote a feature about the concert and an interview with Susan Alcorn here
concert details
Friday, January 22nd
at Joe's Cafe (map)
7:00pm doors / 8:00pm concert
All ages. Please Park on Des Peres. Please arrive early for to find proper seating.
Drinks will be available for donation (beer and wine served)
Tickets available at door or advance tickets here
RSVP on FB: https://www.facebook.com/events/681633668606185/
+ Special FREE event (just added)!
Please join us for coffee and drinks this Thursday (9/21) from 7pm – 8pm at Foam (corner of Jefferson and Cherokee) for a special free event. Susan Alcorn and Frank Rosaly will collaborate in short improvised performances with four St. Louis musicians. This event is FREE and open to the public, and will begin at 7pm and end by 8pm. RSVP on FB HERE.
Collaborations will include:
Susan Alcorn with Chris Trull (guitarist of experimental rock band Yowie and Grand Ulena)
Frank Rosaly with Louis Wall (percussionist and producer of Texas Room) and JJ Hamon(electronic musician and instrument builder).