"… an incredibly remarkable feat of longevity for an arts organization in these challenging economic  times. To say that [New Music Circle] shines as a beacon of hope for creative artists is an under  statement… we couldn't have been more pleased with our experience. A great acoustical  performance space, top shelf professional support and assistance from beginning to end."
  – Joe McPhee
  "I know how difficult it is to keep something like that in operation. I love that the New Music Circle  has been in operation for (55) years. That is very impressive indeed, and crucial for the community."
  – Olivia Block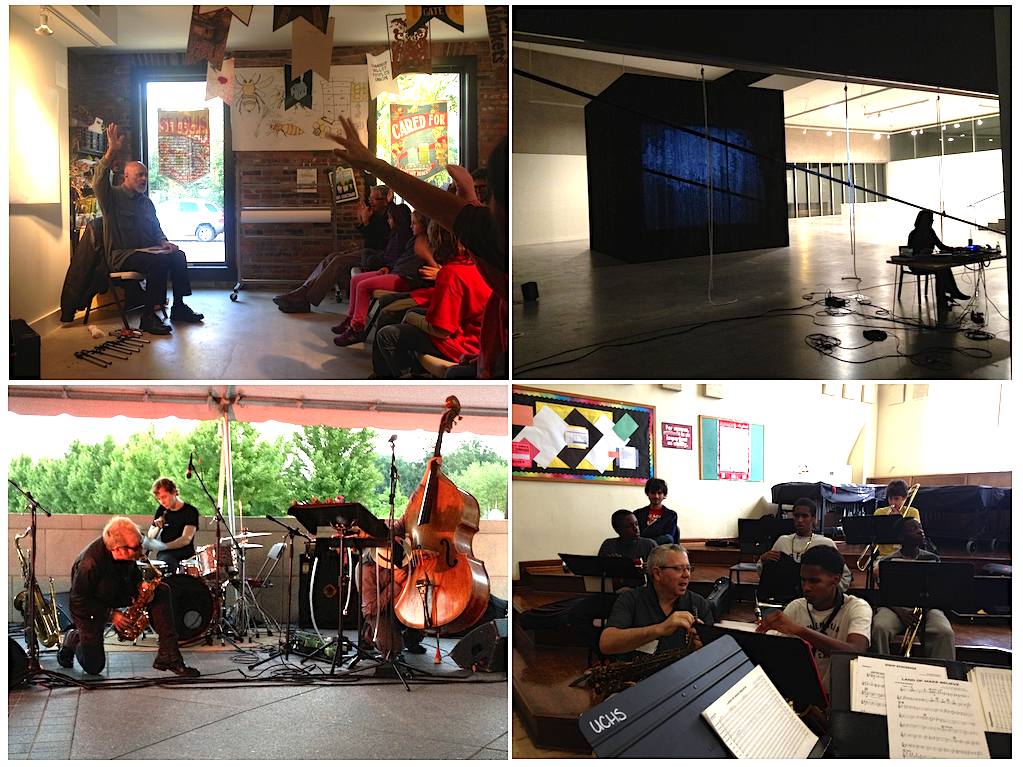 Clockwise: Cooper-Moore children's workshop at Old North St. Louis. Olivia Block soundchecking at Contemporary Art Museum. Marty Ehrlich workshop at University City Highschool. Mars Williams, Tyler Damon, Darin Gray trio at St. Louis Art Museum.
Thank you to everyone who came out to our fall 2013 concerts! All of us at New Music Circle have been heartened by your incredible support for  our unique programming.  What a great season our 55th is turning out to be: a brilliant performance by Darin Gray, Mars Williams, and Tyler Damon on Art Hill in late summer, followed  by a long overdue visit from St. Louis native Marty Ehrlich and The Rites Quartet, William Parker's quintet rocking The Mad Art Gallery, and Olivia Block, Luis Recoder and Sandra Gibson's stunning multi-media show at the Contemporary Art Museum. The last three groups also offered workshops, freely sharing their musical and artistic ideas with the public.
These are only part of what NMC has presented in 2013!  More adventures into  innovative music of the highest caliber are already on the calendar throughout 2014's winter and spring. Enthusiasm is way up and audiences are on the rise!
Unfortunately, institutional support for the arts is way down. All this exhilarating  music comes at a substantial cost, and ticket revenue covers only a dwindling fraction of it. Frankly, we must ask for the additional contributions of people who  love creative music and are willing to support it financially. Our hard-working Board  and minimal but devoted staff insure frugal and efficient operation, as do collaborations with our venues. However we simply cannot sustain this level of programming without your help.
We have been gratified by your growing show of love for this music by attending our concerts and by donating to NMC in the past; but more than ever now we need your financial support to keep moving forward.  I know I will be writing my check to  show my passion for The New Music Circle, as will our board members and staff. Please join in and show your support also. Your year-end tax-deductible contribution will help us continue on our adventure into great new music! Support NMC with a simple one-click PayPal donation HERE.
Thank you for your support!
Dave Day (NMC President) and everyone at NMC