Friday, May 11, 2012, 7:00 pm
New Music Circle Showcase and Seasonal Celebration
William A. Kerr Foundation
21 O'Fallon St.
St. Louis, MO 63102
New Music Circle is excited to announce its final concert of the 2011 – 2012 season. This showcase will highlight four of St Louis's finest experimental musicians and artists, as well as one regional artist.
Following the Showcase, NMC will be hosting an end-of-the-season celebration, with food, beer, DJ's and video, as well as a raffle of prizes and gift certificates to local businesses! (A full listing of prizes and certificates will be announced soon.)
Our celebration will begin immediately after the Showcase at 9:15 pm. Admission is a suggested $10 donation and may be purchased in addition to your entry to the showcase concert. Your donation will get you food, drink and one raffle ticket (additional raffle tickets will also be available for sale), and most importantly, your kind donation will help us to raise funds for next years NMC programming.
The New Music Circle is especially grateful to these businesses for their generous donations:
The Saint Louis Brewery (Schlafly Beer)
Grey Eagle Distributors (Anheuser-Busch beers)
Dierberg's
Left Bank Books
Barnes and Noble
Apop Records
Euclid Records
Vintage Vinyl
Tivoli
Local Harvest
Cyrano's
Three Kings
Trader Joe's
Treasure Aisles Antique Mall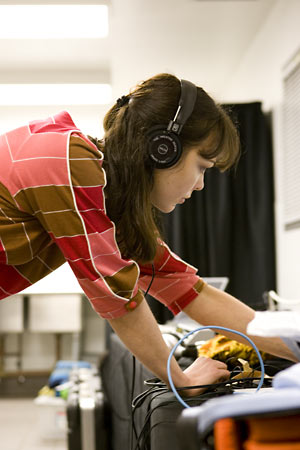 Olivia Block (Electronic and Processed Sound for Four-Channel Mix)
Olivia Block (Chicago) is a contemporary composer and sound artist who combines field recordings, scored segments for acoustic instruments and electronically generated sound.
Her recorded work seeks to introduce and ultimately reconcile nature with artifice in the realms of music and sound. In the process, "organic" sound becomes subtly processed, digitized and abstracted; "inorganic" sound becomes self-replicating and animate; and "musical" elements such as chamber instruments are defamiliarized from their traditional associations, freeing them to participate in the broader aesthetic possibilities of sound. Block works with recorded media, chamber ensembles, video, and site specific sound installations.
Sound Samples: http://soundcloud.com/olivia-block
Joseph Raglani and Kevin Harris (Solo and collaborative pieces for Modular Synthesizer)
Fixtures of the St. Louis experimental and underground music scene, both Joseph Raglani and Kevin Harris have explored a wide variety of approaches to music making, and recently both artists have focused their vision on the possibilities of the Modular Synthesizer – each finding his own unique style and voice through their machines complex patchwork.
The NMC Showcase will see Raglani and Harris performing short solo pieces as well as segueing into collaborative compositions.
Patrick Boland  (Solo Percussion)
While contributing his drumming skills to various local bands, most notably St Louis's long running experimental-rock outfit, The Conformists,  "Pat" Boland has extended the range of his percussive palette and at the same time pursued music coursework at Maryville University.
His studies this year have lead Boland to tackle Rebonds, by Iannis Xenakis, for solo percussion, an intensely complex and fascinating examination of pulse and pattern.
Jeremy Kannapell (8mm film)
As a concert programmer, album and poster designer, filmmaker and musician, Jeremy Kannapell (St Louis), has lent his skills to these many fields in hopes of synergizing them into a broader artistic output.
Informed by pioneers of experimental film such as Robert Breer, Stan Brakhage, and Len Lye, Kannapell's 8mm films consist of colorful and abstracted kaleidoscopic images and are sometimes shown silent, sometimes with live accompaniment. Throughout the past year, Kannapell has been compiling and editing his films into one lengthier piece, to debut at the NMC Showcase.
Special guest DJ, Nathan Cook ( Close-Far Recordings ) will be providing pre and post-show ambience and musical selections.