Saturday, November 12, 2011, 7:30 pm
Keith Fullerton Whitman

White Flag Projects
4568 Manchester Ave.
St. Louis, MO 63110

Since early childhood, Keith Fullerton Whitman has been interested in electronics. He eventually developed his own process-intensive version of electronic music, often involving a wide variety of electronic instrumentation, ranging from digital processing to analogue synthesis to primitive "musique concrete" tape experiments.

Finding inspiration in electronic music's history, Whitman helps to span the gap between early electronic pioneering experimentation and the current underground noise, electronica, and free music scenes.

Pre-show ambience provided by DJ Joe Raglani

EVENT BEGINS PROMPTLY AT 7:30 pm

Whitman will also lead a WORKSHOP on electronic music and modular synthesis (bring your instruments!). Nov. 12, 1:00-2:30 pm;  Luminary Center for the Arts, 4900 Reber Place, 63139

Friday, October 28, 2011, 7:30 pm
James Mobberley and Paul Rudy

Kranzberg Arts Center
501 N. Grand
St. Louis, MO 63103

Paul Rudy and James Mobberley both teach, compose, and perform experimental and electro-acoustic music in the Conservatory of Music, University of Missouri–Kansas City. Together they have composed four new pieces which explore the possible interrelationships between 'live' acoustic instruments and pre-recorded electronic sounds.

James Mobberley's music spans many media, including orchestral and chamber music, music for film, video, theater, dance, and music that combines electronic and computer elements with live performance. Overall, his music has received more than 600 performances on five continents. He has recently been named Curators' Professor of Music and currently serves as Composer-in-Residence for New Ear, Kansas City's Contemporary Music Ensemble.

Paul Rudy is a Rome Prize, Guggenheim, Fulbright and Wurlitzer Foundation Fellow and has recently won the Sounds Electric '07 Competition. "Paul makes incredibly beautiful music from musical tones and environmental sounds of widely varying recognizability…" Kyle Gann, The Arts Journal

Friday, October 14, 2011, 7:30 pm
Matthew Shipp Trio
Co-sponsored by Washington University

Matthew Shipp, piano
Michael Bisio, bass
Whit Dickey, drums

The Ballroom at the 560 Music Center at Washington University
560 Trinity Ave.
University City, MO 63130

Always on the cutting edge of jazz improvisation, Matthew Shipp has, over the course of his career, developed an identifiable language of his own. His new ensemble direction blends high energy and a sense of freedom with complexly structured themes and extended, long range form.

Learning to be a jazz player at an extremley early age, Shipp moved to New York City in 1995 and was soon performing with the David S. Ware Quartet and Roscoe Mitchell's Note Factory. He has recorded with such top flight performers as William Parker, Joe Morris and Daniel Carter.

In February 2011, Shipp released a double-disc album entitled "Art of the Improviser". This release is "testament to Shipp's achievements, yet it is also a continuation of the discovery in his developmental musical language." The Chicago Tribune
Saturday, September 17, 2011, 7:30 pm
Joe McPhee's Survival Unit III
plus free workshop at 2pm (see below)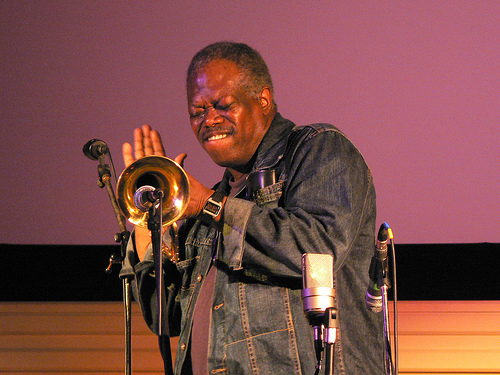 Joe McPhee, saxophone
Fred Lonberg-Holm, cello
Michael Zerang, percussion
Pre-show ambience provided by DJ Joshua Weinstein

Kranzberg Arts Center
501 N. Grand
St. Louis, MO 63103

Along with Peter Brötzmann, Ornette Coleman, and Evan Parker, Joe McPhee is one of the legends of his musical generation, which redefined improvised music as a medium of dynamic energy, unbridled expression, and spontaneity.

Since his first recordings in the late 1960s, McPhee's music has been a radical force in the jazz avant-garde, and his current group, featuring Fred Lonberg-Holm on amplified cello and Michael Zerang on percussion sustains this powerful and innovative musical trajectory.

Free Workshop: Joe McPhee will also lead a free demonstration workshop at St. Louis Community College at Forest Park on Saturday, September 17th, from 2:00pm – 3:00pm in The Mildred E. Bastian Center, room T-165 (the rehearsal room under the main theater).